Introduction
A survey of medical billers and healthcare professionals found that despite having different roles and challenges they all share a desire to help their patients and each other.
We asked three simple questions: What is the best part of your job? What is the most stressful part of your job? And, what would you change about your medical billing software? All of the questions are open-ended because we were genuinely curious about what they had to say.
Our goal is to give healthcare professionals and medical billers a chance to see how they compare to their peers and help those who serve the healthcare industry better understand the challenges that need to be overcome.
About the respondents
Type of business
Medical practice / clinic - 102 (50%)
Medical billing company - 93 (46%)
Other - 8 (4%)
Role
Third-Party Biller - 47 (24%)
Healthcare Provider - 42 (21%)
Management / Administration - 35 (18%)
In-House Biller - 33 (17%)
Office Staff - 16 (8%)
Office Manager - 15 (7%)
Other - 6 (3%)
Counselor - 3 (2%)
Ownership of practice or business
Owner - 73 respondents (41%)
Non-owner - 106 respondents (59%)
What is the best part of your job?
When asked, "What's the best part about your job? What do you enjoy most?," the top two responses were: the work itself (45.8%) and helping people (43.2%). Two other themes that emerged to a lesser degree were freedom/flexibility and team/coworkers.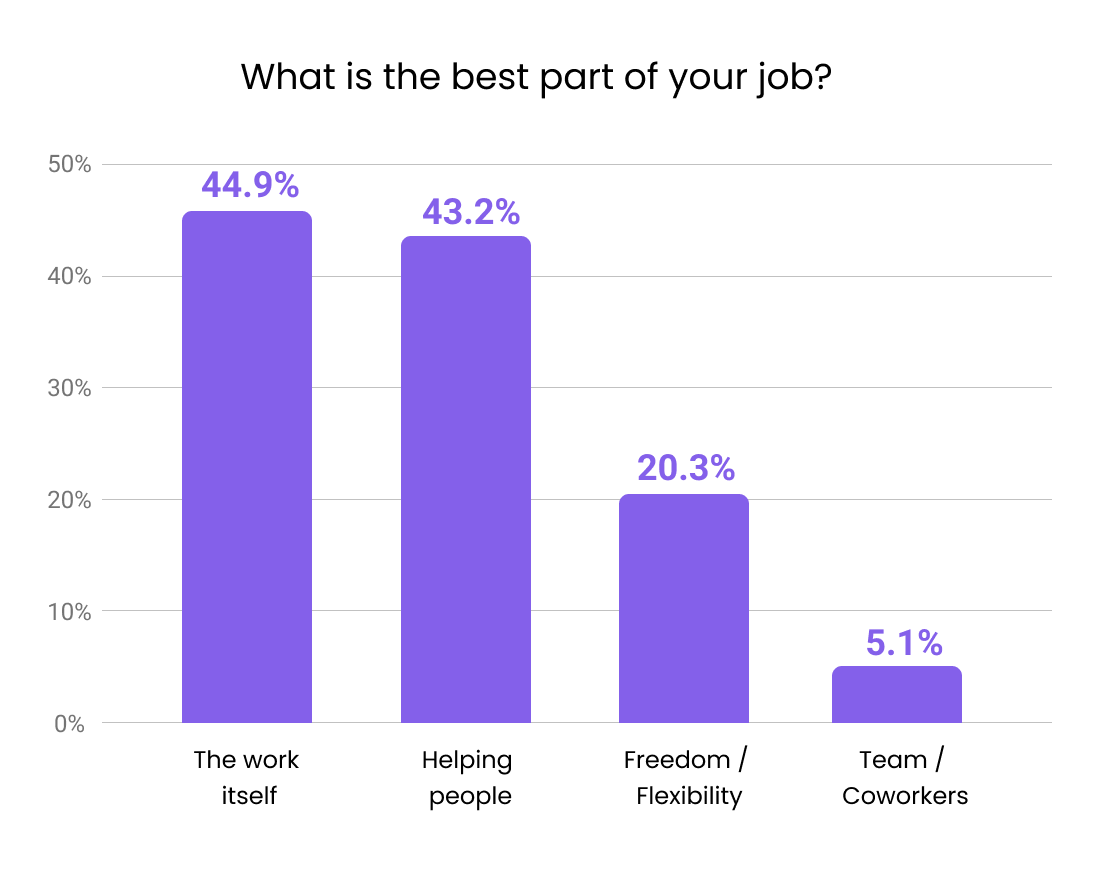 When we take a closer look at Billers, we see the "work itself" theme in the lead (44.9%), followed by helping people (30.6%) and freedom/flexibility (28.6%).
While reviewing Biller responses categorized as "the work itself" and "helping people," we noticed a clear pattern of language that specifically focused on solving hard problems and "beating" the system that prevents providers from being paid. A few examples include:
"Making insurance companies work for the patients."
"Overturning appeals in our favor."
"Getting difficult claims paid."
"When providers' collections are above the monthly average."
"The satisfaction of getting a problem claim finally paid."
What is the most stressful part of your job?
In addition to learning about the positive aspects of their job, we wanted to learn what causes them the most stress.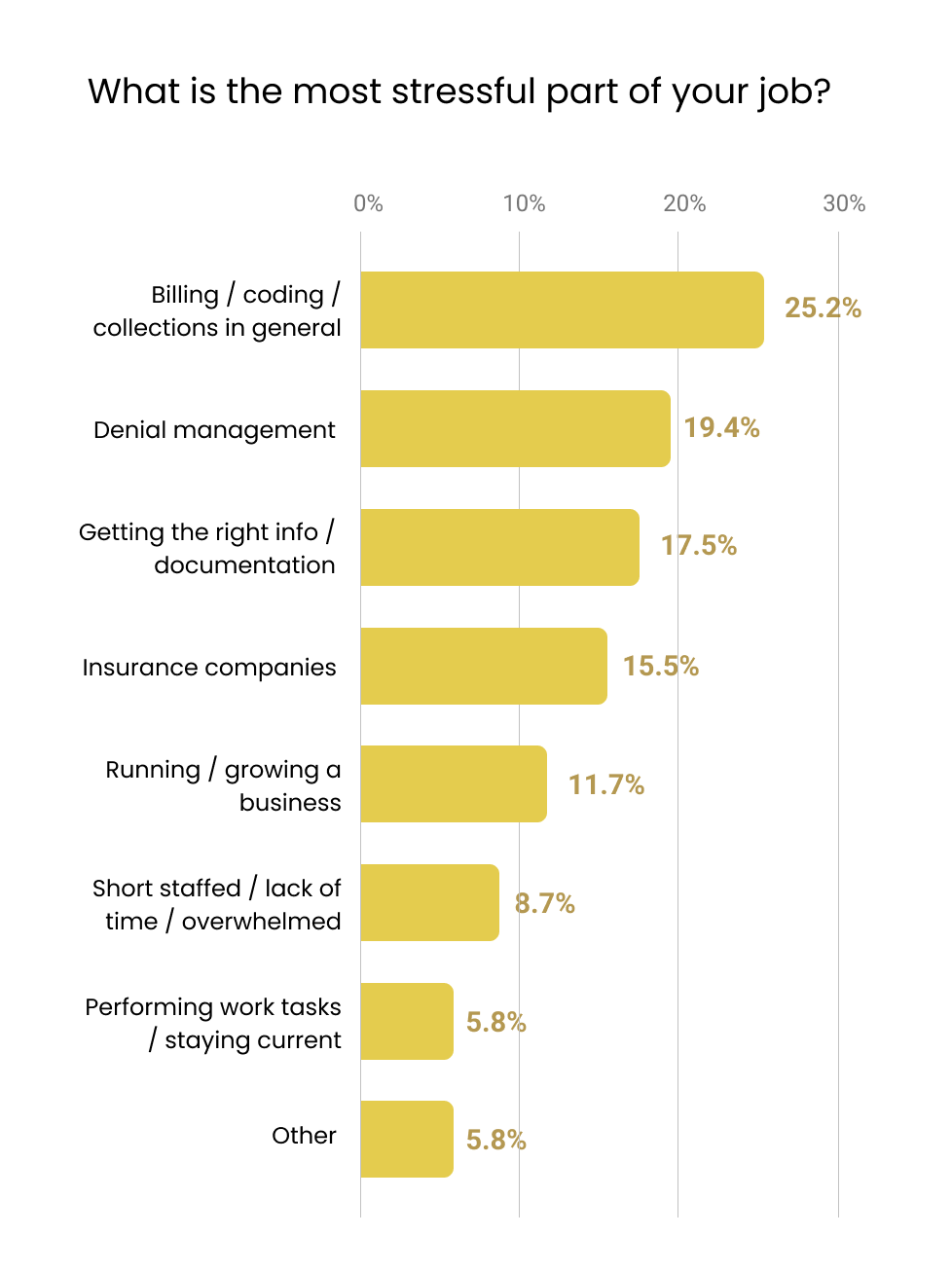 While 25.2% of respondents reported that billing, coding, or collections in general, a large number of responses called out specific aspects of the process:
Denial management (19.4%)
Getting the right info (from patients and/or doctors) (17.5%)
Perhaps not surprisingly, 15.5% of responses explicitly mentioned insurance companies and the struggles associated with claims management:
"Calling insurance companies. Too long on hold."
"Dealing with [insurance companies] on the phone."
"Insurance representatives not understanding what needs to be done with a denied claim."
What would you change about your medical billing software?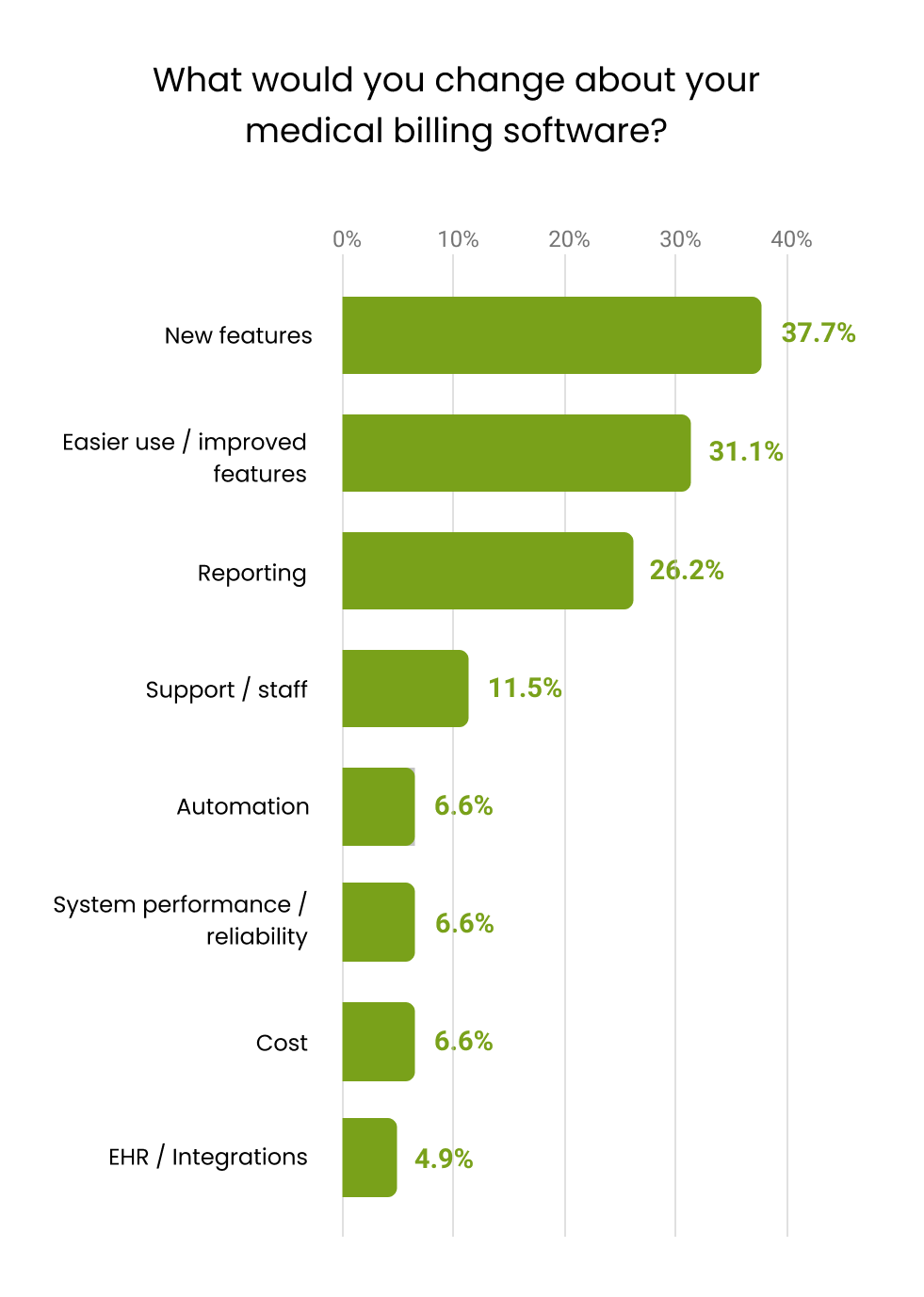 The overwhelming majority of respondents said they use medical billing software, but their responses suggest it doesn't do everything they need it to.
Within the "new features" theme (37.7% of responses), we found a variety of requests for different features that are absent from their current software. The second-most common theme for this question was improving existing features and making them easier to use (31.1%).
Better reporting functionality stood out as a specific area for improvement, with 26.6% of responses mentioning it explicitly.
Comparing Billing Companies and Care Facilities
When we take a closer look at responses from people who work at billing companies versus care facilities, we see a clear difference between "new features" and "easier use." People who work at a billing company tend to need new functionality, while those who work at care facilities seem to care more about improving existing features.
However, we found that "Reporting" was specifically reflected in about a quarter of responses from both groups.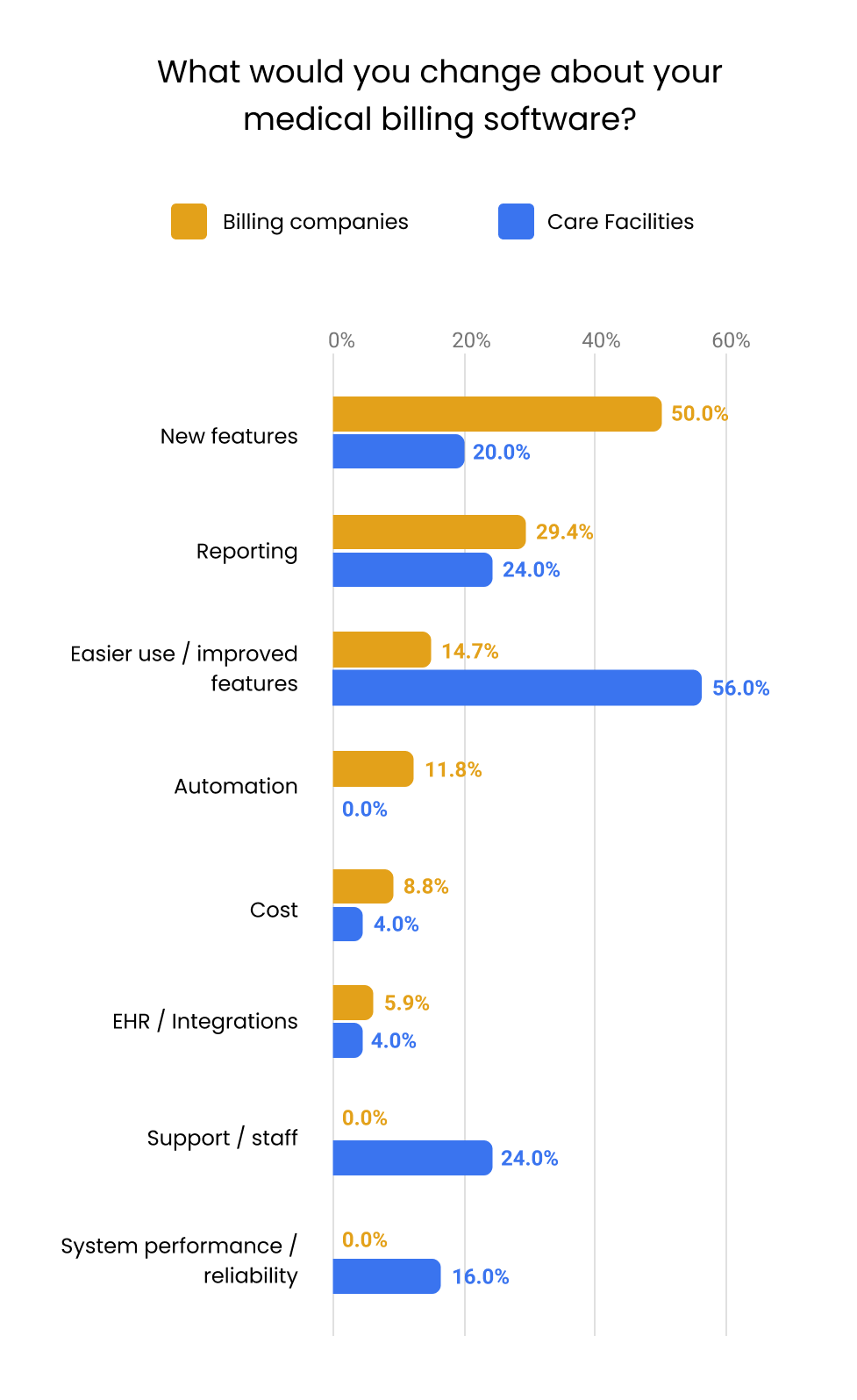 Conclusion
We asked healthcare professionals and medical billers to share how they feel about their jobs. Our findings suggest that both groups genuinely enjoy the work that they do. We were also encouraged to learn that the majority of people like helping others. However, a conflicting theme emerges when we take a closer look at what causes them the most stress. While responses to this question varied slightly, the findings suggest that a breakdown in communication may be creating even more challenges. A large number of responses specifically mentioned getting the right information from patients and/or doctors which suggests that improving communication could help reduce stress.